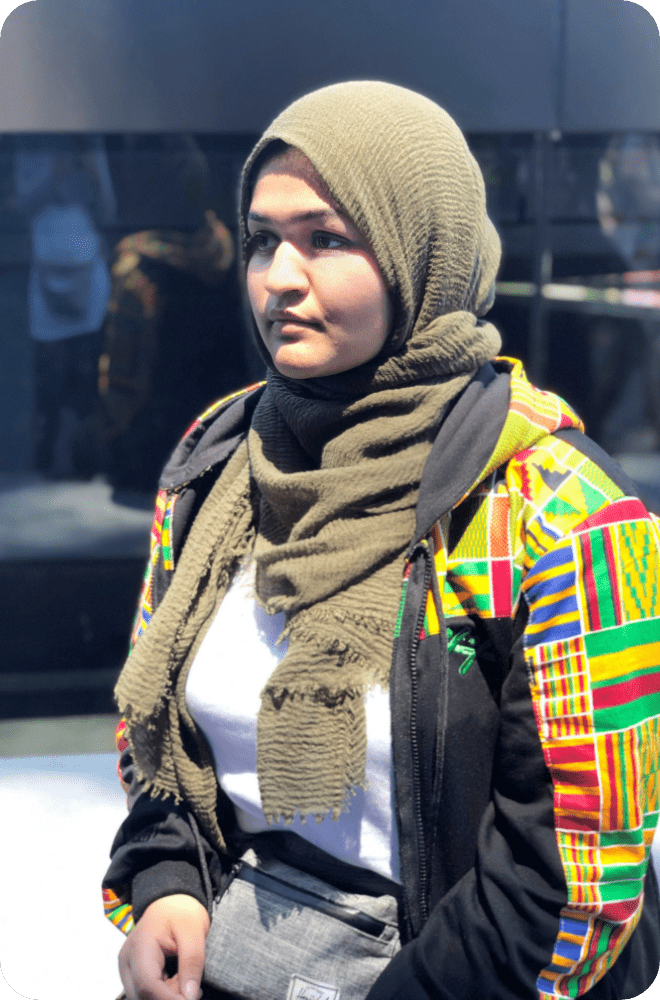 Kashifa
Pathways Scarborough Village

Kashifa graduated from Pathways Scarborough Village in 2021 and is currently studying Life Sciences at McMaster University. After completing her undergraduate degree, she hopes to attend medical school and looks forward to exploring volunteering opportunities at Pathways.
Kashifa first came to Pathways Scarborough Village for academic support, but with time, her needs changed. In the beginning, the program helped Kashifa become confident by seeing how much she could accomplish with good study skills and the right support system. "The more I asked for help, the more I saw myself doing better—and it made me want to aim higher and higher," Kashifa recalls. "Pathways encouraged me to step outside of my comfort zone, and I've never experienced anything or had anyone in my life like that before."
That's how, when schools closed due to pandemic restrictions, Kashifa was able to keep going and focus on her goal: getting into medical school. She stayed on top of her schoolwork—and in fact, her marks were better than they had ever been. While Kashifa needed less academic support than she once did, she continued virtually attending Pathways for the social supports provided during lockdowns. "Many of us felt isolated from our friends," Kashifa recalls. "But everyone at Pathways was online at a designated time. It reminded us that we were not alone; it gave us opportunities to interact with each other and helped me maintain personal and social relationships."
Read more
Like Kashifa, most students' needs change over time. That's why Program Directors like Debbie Engel, who leads Pathways Kitchener, prioritized understanding how the pandemic affected their needs. Debbie and her team considered many individual students' situations to provide well-rounded online programming. Some, like Kashifa, came to Pathways for social activities or homework help. Others suddenly needed help to access food. "Staying connected is one area in which program staff played a critical role during the pandemic," Debbie explains. "The Pathways Program staff leveraged their relationships with students to stay connected in different ways based on individual needs."
This diversity of needs is why the Pathways Program was designed around a holistic combination of academic, financial, social, and one-and-one supports. And it's why, when the pandemic hit, program locations across the country were able to respond to students' changing needs quickly. This allowed students like Kashifa to keep using the supports available to them and challenging themselves, even in the toughest times. Her message to other youth is unequivocal: "Take the opportunities that come knocking on your door because you never know where they can take you. If I hadn't taken those initial steps by attending Pathways' tutoring sessions, I wouldn't be at McMaster University today."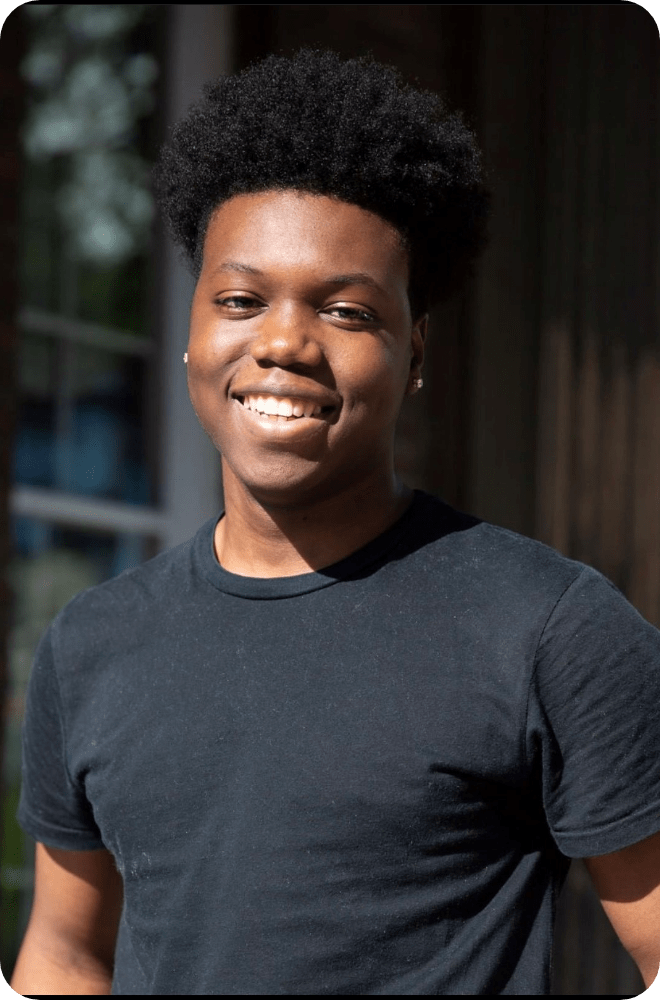 David
Pathways Rexdale

David graduated from Pathways Rexdale in 2018. After internships at Pathways Canada and the Boston Consulting Group (BCG), he was hired as a Software Engineer at Loblaw Canada. David looks forward to finishing his degree in Computer Science at Toronto Metropolitan University in the fall.
A few years after his high school graduation, David did an internship at Pathways Canada, during which he was asked to give a speech to corporate donors. David's presentation skills and his ability to network after the event impressed donors. That's how David landed a Software Engineer job at one of Canada's largest employers. "After giving a speech for Pathways, I made a few professional connections and reached out to them," David recalls. "That's how I got my job at Loblaws. It's amazing how much I've learned there, through many different projects, tools, and interesting people."
Read more
But it wasn't luck. After years of building career development skills at Pathways, David was perfectly prepared to make the most out of this opportunity. That journey started at Pathways during high school with field trips to the Boston Consulting Group, where he interacted and connected with accomplished professionals; then came internships at BCG and Pathways Canada. Along the way, David kept developing his professional networking skills, an ability he attributes to his time as a student at Pathways Rexdale: "I wasn't that social in high school," David explains. "But through Pathways, I learned the importance of interacting with people you don't know or that aren't from your area."
The same curiosity that kept David engaged at Pathways Rexdale as a high school student led him to look for learning opportunities in internships—with a particular interest in tech. Today, David is as interested in learning new programming languages as he is in meeting new people. "As an intern at BCG, I learned to work with others to find the information I needed," David explains. "I also got to work with software in my internships at BCG and Pathways Canada, which gave me great experience for my resume."
With strong career development skills and extensive work experience acquired before graduating from university, David is focused on picking up new programming skills that will solve the problems of future generations. This commitment to learning connects the dots between David's time as a student at Pathways and his new career in tech, one that he would recommend to other youth currently in the program. "As long as you enjoy learning new things, you'll do well in any tech job," David reflects. "It's a great career option for young people today."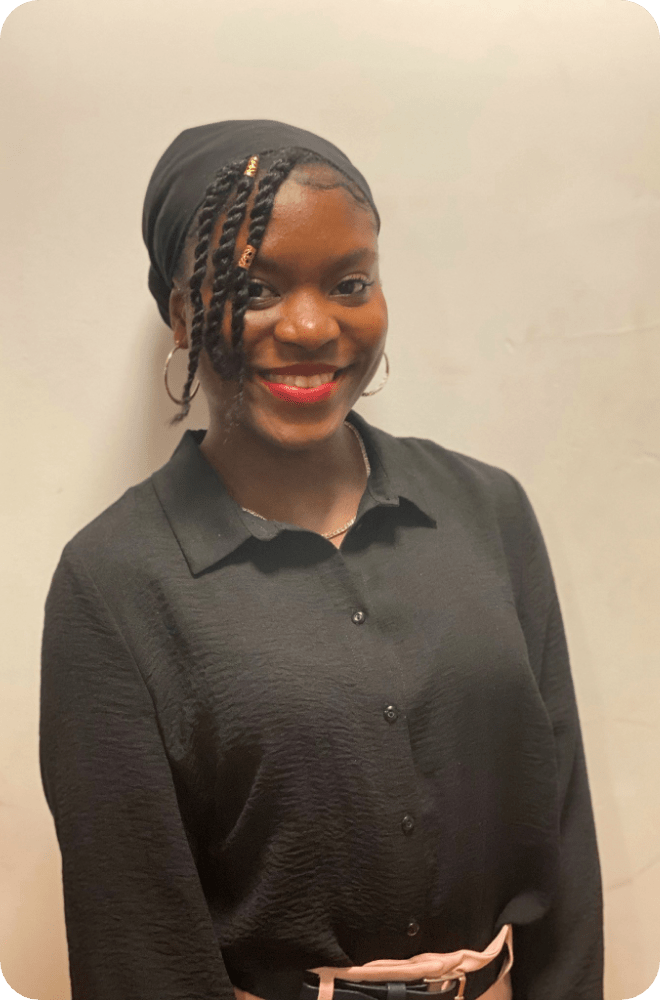 Milca-Grâce
Pathways Pointe-Saint-Charles

Milca-Grâce graduated from Pathways Pointe-Saint-Charles in 2018. She is currently pursuing a degree (AEC) in management and accounting at Collège Rosemont. After college, Milca-Grâce looks forward to exploring opportunities in entrepreneurship and being a changemaker for her community in Montreal and her home country of Congo.
Milca-Grâce joined Pathways right as she started high school after her mother received a flyer about the program in the mail. "She said, 'Milca, join this program. They'll help you pay for your studies later,'" Milca-Grâce explains. "My mother saw an opportunity, and she helped me discover Pathways."
Read more
At Pathways, Milca-Grâce took advantage of the academic and financial supports available and participated in arts programming. One year into her Pathways journey, Milca-Grâce and her family moved to a different neighbourhood. Faced with this change, she decided to find a way to stay in the program and worked closely with program staff to find a solution. "I changed high schools, but I wanted to stay in Pathways because I liked the people and received a lot of help," Milca-Grâce recalls. "The staff were very engaged and helped me grow. On top of that, the financial help for school supplies and transportation made it easier for my parents."
Despite living further from the Pathways Program location she attended, Milca-Grâce was able to complete the program, graduate from high school, and pursue post-secondary education. She initially picked a CEGEP program in social sciences and business before changing courses and heading towards a professional degree—a change of school, which, this time, was of her own volition. "When I finished high school, I wasn't too sure of what I wanted to do, so I went to talk to some guidance counselors," Milca-Grâce explains. "Shortly after, I realized that I wanted to become an entrepreneur and that I would start by acquiring more knowledge and studying accounting."
Milca-Grâce experienced several changes in her life—some voluntary and some outside her control. What she learned, in both cases, is to ask others for help and take time to come up with a new plan, as she was able to do by working closely with Pathways Program staff when she moved. It's a valuable skill that she'll carry forward as she works towards a career in entrepreneurship. In the meantime, Milca-Grâce has a simple message for youth who could benefit from the Pathways Program: "Go for it! It's the best thing to do. Pathways helped me pay for college and create long-lasting supportive relationships. Just go for it!"